This month's transits in three paragraphs
Sun, Mars, and Mercury are in the Spleen Center. Keywords here are health, well-being, survival, and listening to the input your senses give you right now. In short: ground yourself in and take good care of your body.
The Moon Nodes still activate Channel 20-34, Being Busy. We all have energy to clear up past mistakes and start afresh with new projects.
During the first half of the month the planets emphasize individual guidance and empowerment. In the 2nd half, energy is available to implement just solutions for our community or society. Find your inner truth and speak from there (avoid taking sides).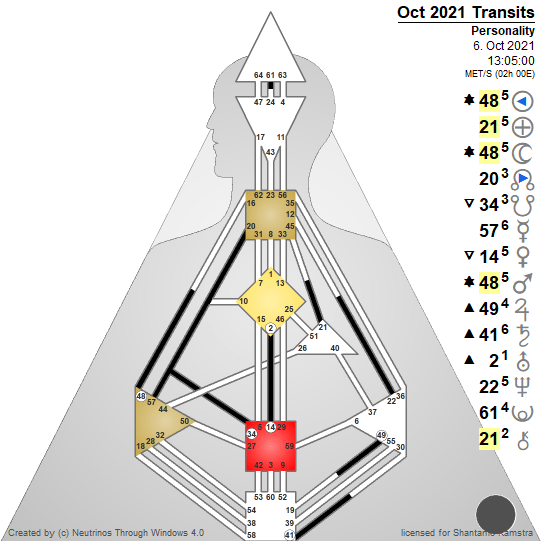 Transits: the first week
From 2-7 Oct, Venus in Gate 14; Prosperity, and Uranus in Gate 2, Guidance, activate the Channel of Alchemy. Be open to novel ideas how we could prosper, which arrive through the inner or outer feminine. It's a good time for tantric meetings too.
Sun and Mars share Gate 48, The Well, in this period, which gives access to potential new sources of creativity. The Moon Nodes in their turn help to manifest what has arisen.
Transits: the second week
Energy rises to a peak in the second week of Oct: from 8-16 Oct Sun, Mercury, Venus and Mars join the Nodes in active channels. This is a time of great personal empowerment and drive. Remember the Spleen! Schedule some time of relaxation, and body care, which can also happen through movement.
Third and fourth week
Then we have a phase of consolidation : from Oct 17-19 Mars and the Sun are in Gate 32, Duration, giving energy to bring the changes we have initiated in a more durable form.

During the last ten days of the month, our attention goes to values. How can we make sure that everyone has their fair share of the available resources? On the shadow side, this will bring up the issue of corruption, which may prompt Jupiter and Saturn to come out and speak up.
Jupiter is in Gate 49, Revolution, and goes through lines 4 and 5: feeling the inner rightness of changes and supporting others in their endeavors to change. The greatest leadership is the one that enables others to find their own inner authority. Although you may be tempted to go on the barricades, and this may also be the right thing to do, remember that the biggest rebellion happens inside, when we raise our consciousness. This does not oppose any outside forces, so it may appear less effective, but it paves the way for a new way of being that is just behind the horizon.
Final remarks
From Oct 25 to Jan 14, 2022 Uranus and Pluto activate Channel 24-61, the Thinker, just like in the last half of 2020 and from March to June this year. The invitation here is to dive deep inside, find your own truth and then stand up for it. Because this is an arduous and sometimes risky endeavor, many people go for an easier route: they gather around a theory or authority figure and adopt some collective truisms. This can become quite argumentative.
A silent, deep-held inner truth has a quiet way of reaching of those that are open to receive it.
Mercury is still Retrograde, until Oct 19. Take care with signing major business deals and don't get upset when some tech gadget behaves erratically.